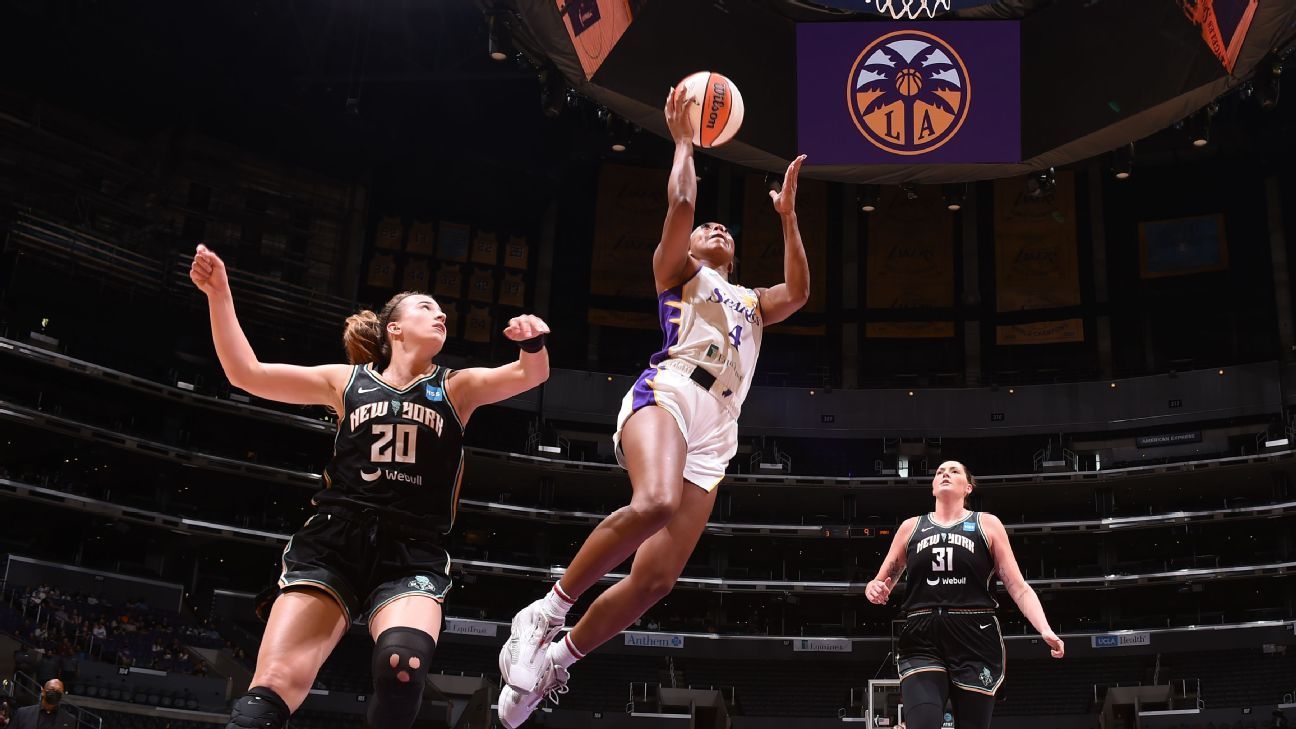 Waiver Wire Pickup – Surprise Newbies Make the Most of Their Minutes
We have reached the All-Star break, the unofficial mid-season. This week off should help players with stubborn injuries get healthy and players struggling with fatigue get some rest. Presumably, coming out of the break, teams will have more of their main active starters than they currently have. This might reduce the chances of bench players getting an extra run, but as we've seen all season, there will always be unexpected players who step in and earn their place on the fantasy radar. Our job, in this space, is to shine the spotlight on these players. Let's go.
---
Moriah Jefferson, Minnesota Lynx (49.2% registered in ESPN leagues): Seriously. Jefferson should be universally listed now. She's been in this space for three straight weeks and continues to put out monster numbers every night. She had her first career triple-double last week, and in her last six games she's posted star-level stats: 16.7 PPG, 6.3 APG, 3.8 RPG, 2.2 3PG and 1.0 SPG in 30.7 MPG.
Stefanie Dolson, New York Liberty (23.1%): Dolson, known on IG as BigMamaStef, has alternated big and medium plays in recent weeks. In her last six games, she has games of 20 points and 7 rebounds, 16 points, 6 rebounds and 4 assists, and 12 points, 5 rebounds, 4 assists and 2 blocks with overall averages of 10.2 PPG, 5, 5 RPG, 2.3 APG, 1.3 BP and 1.2 3PG.
Marine Johannes, Liberty of New York (18.1%): Johannes entered the starting lineup six games ago, and in her last five games she has averaged 16.0 PPG, 4.2 3PG, 4.0 APG, 2.2 RPG, and 0.8 GSP. She should be a starter every game in the fantasy hoops leagues as long as she plays at that level.
Lexie Brown, Los Angeles Sparks (7.3%): Brown has started the last two games in place of Brittney Sykes (COVID-19), but her biggest game of the week (17 points, 5 3-points, 2 rebounds, 1 steal) was in an off-bench game prior to that streak . . Her long-term advantage is capped as Sykes is expected to return soon, but Brown is worth watching as long as she plays the opening minutes.
Rebekah Gardner, Chicago Sky (6.1%): Gardner is in this spot for the second week in a row, as she continues to produce even since returning to an off-the-bench role. She scored in double figures in four straight games, in which she averaged 10.8 PPG, 4.3 RPG, 1.5 SPG, and 0.8 APG.