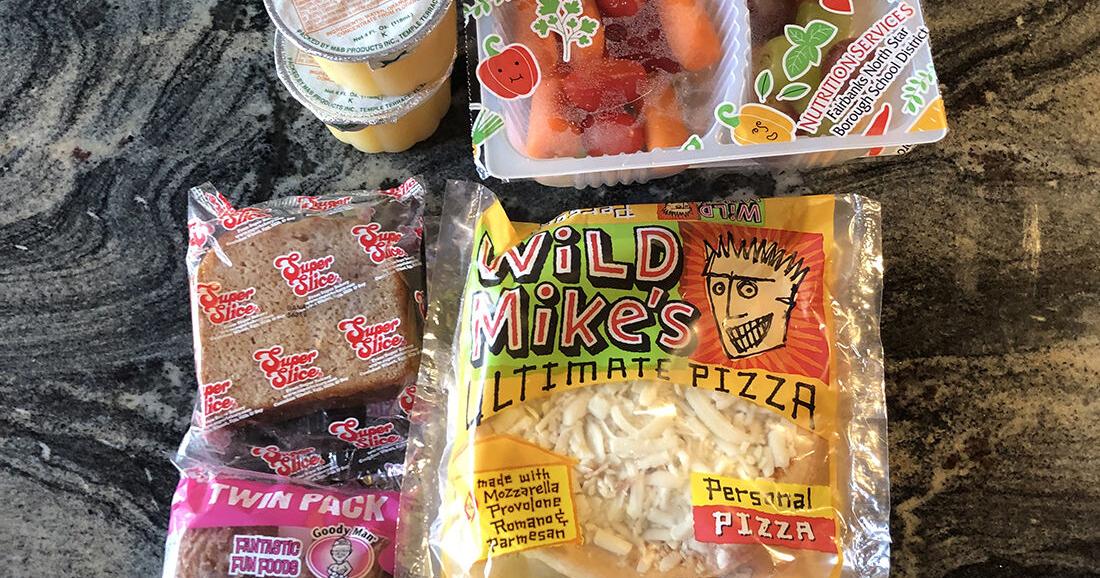 Universal Free School Meal Exemption Ends June 30 | Education
A federal waiver offering free lunches to school children expires June 30 and the Fairbanks North Star Borough School District is asking families to apply for free and reduced-price lunches for this upcoming school year and prepare to apply for years to come. to come.
"Although the district provides free meals to students, that does not mean that students are entitled to free or reduced meals," said Amy Rouse, director of nutrition services for the district. "In fact, many don't."
The waiver has been in place since spring 2020 as part of a Covid-19 pandemic measure.
"Congress authorized Covid relief spending that included funding for the U.S. Department of Agriculture to provide waivers that allowed districts to provide meals at no cost," Rouse said. "With the last omnibus bill that passed, Congress didn't include that, so the USDA no longer has the authority to provide/offer waivers."
Rouse said there are "many ways a child can get free eligibility, but only for reduced meals."
Parents and guardians must complete an application, either online or submitted on paper. Applications can be found online at www.k12northstar.org/Domain/101.
"We encourage families to complete the 2021-2022 School Meals Application for Actively Enrolled Students so that in August, eligible students will have what is known as 'deferral' status," Rouse said.
Rouse said 26% of families qualified for free or reduced-price meals in the current school year, down 36% from the 2019/2020 school year. However, she said the decline was largely due to the lack of applications filled since the universal waiver made meals free.
Rouse said families must reapply for school meals each year, but USDA regulations provide for a 30-day buffer to receive the meals. If a new application is not completed, a student's meal eligibility will "revert to full pay."
Newly enrolled pupils, such as kindergarteners, do not have deferral status "and will be required to pay full price for meals until an application is completed and processed".
BEST homeschool students may receive a meal if attending a class at a physical school. Students can pick up meals immediately before or after a meal service. E-learning students can eat both meals at mealtime.
The district's Department of Nutrition Services offers free and discounted breakfast and lunch to eligible families through the USDA's National School Lunch Program.
Without the program, the cost per student would be $2 for breakfast and $3.50 for dinner in elementary schools. High school students should pay $2.25 for breakfast and $3.75 for dinner.
The milk is sold separately for 75 cents. A la carte items, such as fries, are not included in a meal and priced differently.
For a family with a single elementary student, meals would potentially cost $990 per school year, based on a 180-day calendar.
"For an elementary student who eats breakfast and lunch every day, the weekly cost would be $27.50 and for a middle or high school student, the cost would be $30," Rouse said.
The reduced meal program offers free breakfasts to students and charges 40 cents for lunches. This works out to $72 per student per school year.
The Reduced Meal Program has federal income eligibility requirements. The 2021-2022 district table highlights the requirements. A single-parent/guardian household must prove they have an annual income of $29,767 (or $2,481 per month) to qualify. A household of five with an annual income of $71,799 or less may qualify.
Families are also eligible if they receive assistance from one of the many state or federal assistance programs such as SNAP or Native Family Assistance Program.
Families reiterated by Rouse should complete an application or visit the Nutrition Services website for more information on qualifications.
In addition to ensuring students receive meals, the Free and Reduced Meals Program determines federal funding for schools.
The apps also help determine families' eligibility for certain benefits, including reduced tuition and testing fees, discounted phone services, free or reduced internet service, and electronic benefit transfer benefits in case of pandemic (or food stamps).
Senator Lisa Murkowski co-sponsored bipartisan legislation with Senator Edward J. Markey (D-Massachusetts) and Senator Debbie Stabenow (D-Michigan) on March 31 to extend the program through September 30, 2023.
The legislation won the support of 49 other US senators, but the bill remains in committee.
Murkowski, in a March 31 joint press release, said that while life was starting to look normal for some, "many Alaskans are still struggling to weather the economic fallout from the pandemic and many schools continue to struggle with the supply shortages and rising prices".