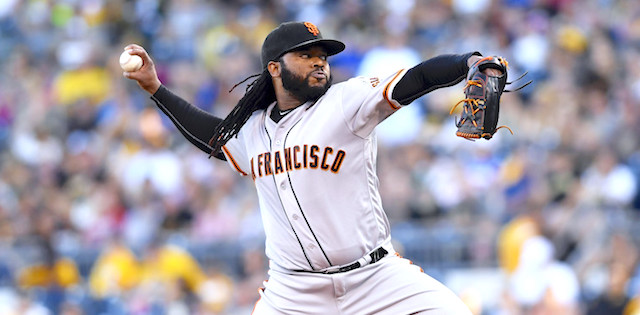 Streamers Daily Fantasy Baseball – Waiver Over Sunday 8/3
Welcome to another edition of our daily fantasy baseball streamers! Do you play in leagues with daily moves and looking to strengthen those rosters? At RotoBaller, we're here for you and all of your streaming needs. Whether you're just trying to get that elusive class win or trying to make up for Andrew Heaney's lackluster start on his Yankees debut last night, we can help. Every day, RotoBaller will provide you with some of the best streaming options to consider in the daily shallow and deep fantasy baseball leagues. Streaming hitters and pitchers to tap into games are important in helping you win your league.
Knowing your league is important if you are going to broadcast. I'm not just talking about the teams your teammates are rooting for. I'm talking about whether strikeouts count against you for hitters or whether the field stats are included. Most importantly, you need to know how many trades you have per week. You don't want to explode your allowance in a few days. You can also use these recommendations to help you build your DFS ranges. This article will use the registered percentages and eligibility for ESPN league positions.
We have eight pitchers who are registered in over 90% of ESPN leagues. Six others are held in more than half of the leagues. That leaves us with about half the pitchers to choose from today, including a lot of former All-Stars. Do any of them make the cut? We'll check this out after looking at the hitters.
Editor's Note: Our amazing team of editors received 11 award nominations, industry-leading, by the Fantasy Sports Writers Association, including Baseball Writers of the Year, Soccer Writers of the Year, Baseball Article of the Year and much more! Make sure to follow their reviews, rankings and tips throughout the year, and win big with RotoBaller!
Read more!
8/3 Batting Streamers – Shallow Leagues
Kolten Wong (2B, LHB, MIL) – 48.6% enrolled
Match: against PIT RHP Max Kranick
Wong has at least one hit in all but one of his 13 games since the break. He's hitting .323 in that span with a homerun, six RBIs and 11 runs for Milwaukee with a pair of interceptions. Wong hit 0.350 in June before landing on the IL and didn't miss a beat on his return. Wong hit 0.315 in July, but has yet to regain its June surge. If you need races or averages, Wong is your man. Plus, he faced Max Kranick last week and landed a hit and an RBI. He should be good for some counting stats tonight.
César Hernandez (2B, RHB, CWS) – 46.1% enrolled
Match: vs. KC LHP Kris Bubic
Hernandez faced his former team immediately after being traded and had five hits against them in 13 tries. The bad news is that he only had one run to show. Bubic has been throwing better lately, but he's still throwing on contact, something Hernandez is good at. I would say Hernandez has the best chance of any White Sox to make it to Bubic tonight.
Patrick Sagesse (1B / 3B, RHB, CHC) – 32.8% enrolled
Match: at COL LHP Kyle Freeland
The closets are now empty in Wrigleyville, which means Wisdom is moving from a marginal player in the Cubs roster to an everyday player who sits in the middle of the command. Wisdom responded with a six-game hitting streak in which he hit .381 with a pair of homers, four runs batted in and five runs scored. This streak ended on Sunday, but he was rewarded with a road trip to Coors Field where he should get drunk on power.
Kyle Farmer (2B / SS / 3B, RHB, CIN) – 31.2% enrolled
Match: v MIN RHP Kenta Maeda
Few of the players on a team in the world are hitting like Farmer right now. Farmer is a record 0.484 in his ten-game streak with three homers, six RBIs and 11 runs scored in that span. The Reds moved it to just ahead of Joey Votto, who scored seven straight homers heading into the weekend. You can bet Farmer is going to keep having a ton of shots to hit past Votto as long as he stays hot.
8/3 Batting Streamers – Deeper Leagues
Max Stassi (C, RHB, LAA) – 18.2% enrolled
Match: at TEX RHP Jordan Lyles
Stassi comes on a seven-game streak in which he hits .423 with three homers, seven RBIs and three runs scored. What if no one else is driving it? Catcher is always a tough job to fill in almost any great league. Trade in a refreshing Daulton Varsho for Stassi if you're streaming Seekers.
Abraham Toro (3B, LHB, MER) – 16.8% enrolled
Match: at TB RHP Luis Patino
Yesterday was the first time Toro was without a hit as a Mariner, but he still got to base twice and scored a point. We can work with that. Toro is hitting .429 as the Mariner with two home runs, four RBIs, one steal and six runs scored in six games. He's thriving in Seattle right now. Ride it until it cools.
Rowdy Tellez (1B, LHB, MIL) – 13.2% enrolled
Match: against PIT RHP Max Kranick
One of the most impactful trade deals can also be one of the first. The Brewers sent Bowden Francis and Trevor Richards to the Blue Jays for Rowdy on July 6. In 18 games with his new team, Rowdy has reached .323 with four homers, nine runs scored and 12 RBIs. He also walked seven times as he walked just nine times in 50 games for Toronto. These four circuits have been held since July 24, with 10 of those 12 RBIs also entering this period.
Rafael Ortega (OF, LHB, CHC) – 9.8% enrolled
Match: at COL LHP Kyle Freeland
Ortega inherited the starting position from the late Joc Pederson and ran with it. Ortega has four home runs in his last two games with seven runs batted in and five runs scored. And it's before a trip to Coors Field. We have a guy coming into Coors with a scorching heat streak. It should be fun! At least for the 90% of us who can get Ortega for free!
Streamers Pitcher for 8/3 – Shallow Leagues
Johnny Cueto (RHP, SF) – 39.3% enrolled
Match: in Arizona
The Diamondbacks were one of the few teams that didn't do much by the deadline. They shipped Eduardo Escobar which helps us if we plan to launch Cueto tonight. In three starts since the all-star break, Cueto has allowed four runs in 15.2 innings with 17 strikeouts. These are not good numbers, but they are very good given that Cueto was rocked in his first two starts of the month. The increase in strikeouts is what intrigued me since Arizona is a free team anyway. Cueto has solid potential and is unlikely to hurt your ratios tonight.
Madison Bumgarner (LHP, ARI) – 26.5% enrolled
Match: against San Francisco
We've all seen how badly MadBum has started the season, but it has also seen a renaissance since the break. MadBum has allowed just four runs in 18 innings in three starts since the break. The bad news is he only has 11 strikeouts in those 18 innings. He's going to help ratios now, and he's got revenge on his side if you want to play this narrative. The Giants improved a bit at the break, but not enough to scare me.
Streamers Pitcher for 8/3 – Deeper Leagues
Adrian Houser (RHP, MIL) –12.9% enrolled
Match: vs. Pittsburgh
Houser threw just 70 shots against Pittsburgh last week, but he trailed long enough to claim the victory. It looks like the Brewers are limiting innings for Houser, which is why many have jumped at him. I still expect Houser to go long enough to get the win and help our ratios, but Pittsburgh isn't hitting enough for you to reach Houser in shallower leagues.
Kyle Freeland (LHP, COL) –6.4% enrolled
Match: against the wolf cubs
Hey, don't laugh. Freeland has allowed just five runs in 19 innings in his three starts since the break. Before we made holes in that, two of those starts were against the Dodgers and the other against the Padres. These are three good offenses. Tonight he picks up the Cubs corpse in Coors. The knock on Freeland is that he doesn't get enough strikeouts to help you out if he gets knocked down, but Coors or not, this Cubs roster is overshadowed by some AAA teams. Freeland looks like a solid streamer tonight.
Win big with RotoBaller
Be sure to also check out all of our other daily fantasy baseball articles and reviews to help you define those winning rosters, including this new RotoBaller video:
More fantasy baseball advice