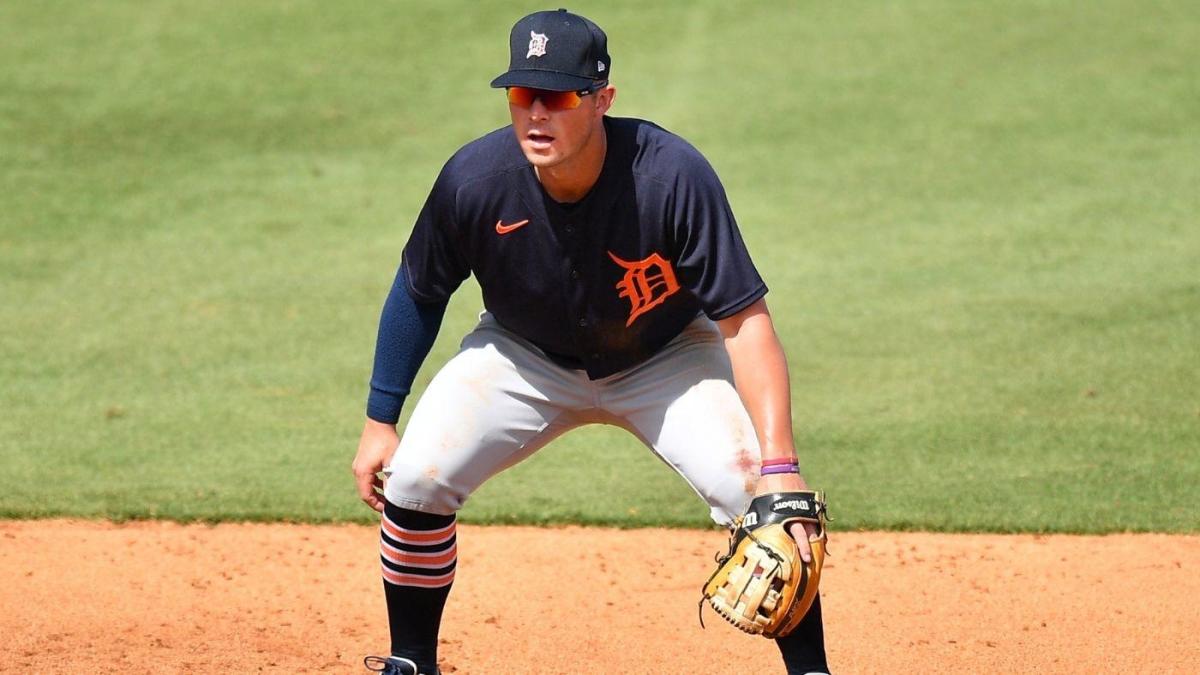 Preparing for the 2022 Fantasy Baseball Draft: End-of-round goals and early waiver options for each position
Whether you've already completed your Fantasy Baseball draft or have one yet to come, this week is your first chance to make those post-draft additions to your team through the waiver or FAB feed. And, while this article is for those of you making your first FAB claims of the year, it's also useful for drafts, because the difference between a free agent and a late pick is simply whether someone one – you – is ready to take on one of your final choices.
What we're looking for here are both potential short-term replacements in case your draft doesn't go as planned – say you drafted Jacob deGrom or we're counting on Luis Urias as a cornerman – or upside down games to target on your first FAB run or with your end-of-round picks. Let's go through each position to identify which players are worth targeting in either scenario.
Seeker
If you need immediate help: Kyle Higashioka
If you are looking for a hiding place: Kyle Higashioka
There really isn't much difference between immediate help and a potential receiver hiding, because if someone has playing time and potential, you should probably throw them in a two receiver league just to see if there is something there. There's not much value in hiding a receiver on your bench unless it's Adley Rutschman, who we hope to see shortly after the start of the season if his triceps injury heals well. It might have to wait until May, but it's still worth drafting and hiding.
Higashioka is scorching in the spring, with five home runs, and it's always had pop. He reshaped his swing this offseason after new Yankee Josh Donaldson, and the Yankees moved Gary Sanchez into the move to acquire Donaldson, so they seem to have some confidence in Higashioka. It's irrelevant to start the season in single receiver leagues, but it's worth a look in two receiver leagues in case they unlocked something here.
First base
If you need immediate help: Spencer Torkelson
If you are looking for a hiding place: Spencer Torkelson
Torkelson is a priority in all leagues. He may need some time to adjust to big league pitching, but the Tigers' top prospect is one of the more advanced hitting prospects and could be operational. It's not guaranteed – we expected Andrew Vaughn to need little time to adapt, after all – but Torkelson will be playing every day from opening day and has both power and contact skills, having hit .267/.383/.552 across three tiers in 2021, his first taste of the miners. Torkelson is expected to be registered in all leagues by the time the lineups lock for Week 1.
Second base
If you need immediate help: Gavin Lux
If you are looking for a hiding place: Gavin Lux
You won't see Lux undrafted as often following the AJ Pollock trade, which should give him a clearer path to playing time. However, I don't expect that either. he's shooting at the draft boards because the main obstacle to playing time for him hasn't gone away: concerns about his ability to hit left-handers. The sample size is small, but he only managed a .168/.256/.243 line against them in 121 plate appearances. If he can't figure that out, little else will matter, as the Dodgers have shown in the past that they're perfectly willing to place even very talented young players in part-time roles if they have them. need.
However, Lux is going to have an early-season opportunity on baseball's best roster, and that's enough to make him a viable early-season replacement. And his prospect pedigree and minor league background make him a very attractive option to hide if you have a spot on the bench. What makes Lux particularly interesting is that he ranked in the 94th percentile in sprint speed in 2021, so there's room for a stolen base here too.
third base
Urshela is coming off a bad season and doesn't necessarily look as interesting away from Yankee Stadium and the short right-field porch, but he thinks he's an everyday player in a good roster. Any type of rebound can make him a viable corner fielder option, or even a low-end starting third baseman.
There aren't a ton of high-potential third basemen given the state of the position, so unless you want to hide a prospect like Jose Miranda, Biggio's speed makes him an intriguing option. even after a disastrous 2021. He seemed particularly affected by the less bouncy baseball used last season, but he also suffered injuries, so maybe there is room for a rebound. That's a lukewarm endorsement, clearly, and if we hear that Edwin Rios has a chance to play regularly for the Dodgers, I'd take a flyer on him first — Rios has 13 home runs in 199 plate appearances at the majors and could be a good source of power if he can control his strikeouts.
Shortstop
If you need immediate help: Isaiah Kiner-Falefa
If you are looking for a hiding place: Bryson Stott
Kiner-Falefa is a forgotten man, but I find him rather interesting in the wake of his trade with the Yankees. To say he has marginal power would sound pretty complimentary, but marginal power tends to play in Yankee Stadium. And Kiner-Falefa is making enough contacts to be quite useful in batting average, having hit .273 the past two seasons. But you add him if you need speed, especially – he has 28 interceptions in his last 216 games.
Stott brings a lot more potential to the table than Kiner-Falefa, although he's obviously less proven. He was scorching in the spring and probably nearly locked out starting third base for the Phillies, so he's going to get a chance to show what he can do. Over 112 games between three levels in 2021, including Triple-A, Stott hit .299/.390/.486 with a 22.2 percent strikeout rate and 16 homers and 10 interceptions. It's an intriguing skill set, potentially, especially playing half of his games in a really good hitting environment in Philadelphia. Stott isn't considered a hot prospect, so it makes sense that he's largely overlooked in the 12-team leagues, but if you want to pick up a flier on some pros, look his way.
Outfield
In the outfield, the line between immediate help and hiding can also blur, but for different reasons than the receiver. Here it's because end-of-round objectives have a lot of advantages in their own right – Kepler, Canha and McCutchen have all been go-to Fantasy options for the past few years, Thomas brings a speed/power combo to the table, while Joe hit .285/.379/.469 for the Rockies last year. Any one of those players could be one of the top 50 outfielders this season and I wouldn't blink.
But my preferred option here might actually be Smith, especially if I don't need immediate help. He could very well provide it, of course, if he's the Mets' main DH — and a Jeff McNeil trade before Opening Day could help make that a reality. Remember, Smith hit .299/.366/.571 with 21 homers in 396 plate appearances between 2019 and 2020 and was apparently playing with a shoulder injury in 2021, raising hopes he could get back to that level. . He's been one of my end-of-round targets lately.
starting pitcher
Generally speaking, if I'm looking to add someone as a starting pitcher before or even at the start of the season, I'm going to go for upside plays. Greene, Detmers, Keller and Heaney are all in their respective rotations, while we're still awaiting updates on Gore and Lodolo, so if you're looking for a Jacob deGrom replacement, I'd focus on trying Detmers or Greene.
But it might be more realistic to get something useful out of the first group. None of them are safe, obviously, but I feel pretty good that Greinke is useful all season, but especially at the start. He should go higher than he always has, and Hernandez is an underrated option, especially early on when his typically short outings won't be as damaging.
Relief Pitcher
If Kimbrel (81%) is available in your league, he's the obvious best addition after his trade to the Dodgers. His first spring outing didn't go so well, and there have been a few ugly spells over the past few seasons, but he was dominant as the Cubs' closest and should have a pretty long leash with the Dodgers, who were willing to stick with Kenley Jansen longer than most observers would have liked in recent seasons. It is worth up to 20% of your FAB, more in deeper leagues.
If not, we still have a few places waiting to find out which is closest, and we may not know until after the first save opportunity. That includes the Padres, Rockies, Reds, Cardinals, Cubs, Marlins, Nationals, Athletics, Mariners, Rangers, Orioles, Red Sox and Rays, at least. Don't spend too much FAB on anyone from either of these teams until we see how they actually use their ninth inning options or we get an announcement one way or another.