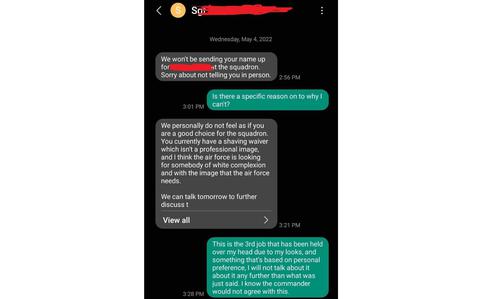 Luke AFB investigates social media post claiming racism over shaving waiver
Officials at Luke Air Force Base, Arizona, are investigating an Airman's allegation that he was denied a job because he is black with a medical waiver to forego daily shaving.
The base's 56th Fighter Wing said the unit opened the investigation after a photo of a text message conversation between the airman looking for a job and another airman was posted on 4 May on a Facebook page popular with Air Force members known as "Air Force amn/nco/snco."
"We won't send your name," wrote one airman to another. "Personally, we don't think you're a good fit for the squadron. You currently have a shaving waiver that is not a professional image, and I believe the Air Force is looking for someone with a white complexion and the image the Air Force needs.
The black airman, who was selected for promotion to non-commissioned officer, had applied to work as the unit's fitness assessment cell, which conducts and oversees physical fitness tests, a source close to says of the situation, which was expressed on condition of anonymity.
The airman responded to the job rejection saying it was the third time a job "was held over my head because of my appearance and something that was based on personal preference."
The statement released by Luke Air Force Base did not confirm the conversation took place.
"Without going into the details of the investigation, we can say categorically that Luke Airmen are held to a high standard of conduct and that we maintain a zero tolerance policy regarding acts of racial discrimination," said the base.
This survey comes nearly two years after Air Force efforts to improve inclusion and diversity among troops. A December 2020 report from the Air Force Inspector General a confirmed racial disparity exists for black service members with respect to leadership opportunities and the development of professional military education, among other areas of service. Missing out on these opportunities can prevent members from advancing in their careers.
The report also states that black service members said they were the target of discrimination because of their personal appearance, including hair and grooming standards, such as shaving.
"To this question, survey participants indicated that they had experienced discrimination primarily from their immediate supervisors and/or leaders. For example, members described being assigned extra work, harassed, harassed, isolated, or humiliated because of their race," according to the report.
As recommended by the report, the service established the Office of Diversity and Inclusion in January 2021 to address issues it identified.
Waivers to forego daily shaving are more common among black men in the military, as they are more likely to have a skin condition called pseudofolliculitis barbae, or PFB, according to a study in military medicine, a peer-reviewed medical journal.
People with the condition may experience painful bumps and scars on the neck and face when they repeatedly shave close to the skin. According to the study, it generally does not respond to topical medications or different shaving techniques. The most effective treatment is to allow the hair to grow long enough to move away from the skin.
The American Osteopathic College of Dermatology estimates that up to 60% of black men suffer from PFB.
In 2020, the Air Force approved a five-year medical waiver that allows the growth of short facial hair. The Military Medicine study found, anecdotally, that the waiver was used to exclude Airmen from serving as recruiters, basic training instructors, and members of the Thunderbird demonstration team.
"The growth of the male beard beyond that permitted by [U.S. Air Force] regulation can cast members in a negative light as it can be seen as unprofessional," according to the study.
The study also found an association between shaving waivers and delayed promotions.