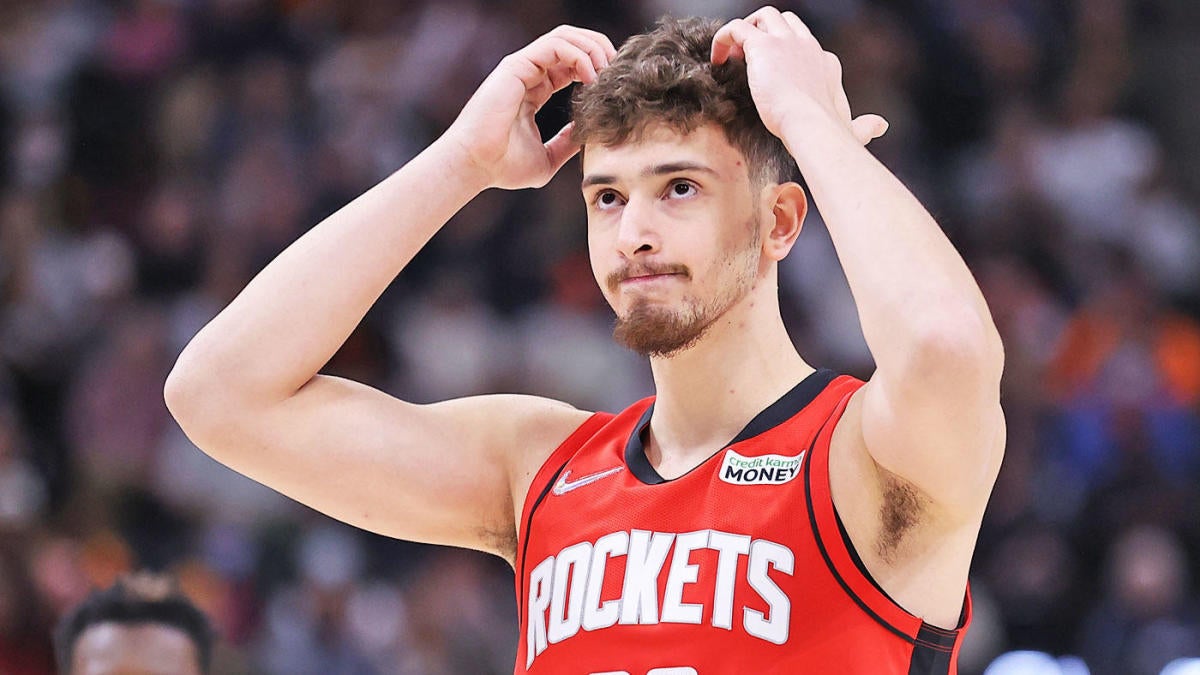 Fantasy Basketball Waiver Wire: Rest of Season Rising Pickups Include Alperen Sengun, Isaiah Stewart
Welcome to All-Star Break! With a full week off the NBA regular season, we're focused on this week's article. Today we're zooming out to see the big picture.
There is less than a third of the NBA season left. It's still less than that for most fantasy leagues. There's still more than a month to go, but we've entered the home stretch.
Instead of focusing on short-term additions – shooters on a good streak, guys who benefit from injuries, etc. – this week's article is all about players who could make a big difference over time. In some cases, these readers are usable immediately. In other cases, their peak may still be weeks away, but either way, these are players I think can make a big impact in the Fantasy playoffs.
So let's go.
As usual, players in this article must be registered in less than two-thirds of the CBS leagues. Players are listed in the order I recommend adding them, assuming they're also a good fit for your team.
Too widely held to qualify
These players are already on over 67% of rosters in CBS leagues, but are more widely available on other platforms and it's worth checking their status in your league; If they qualified, they would be the top recommended pickup.
Darius Bazley, Thunder (79% listed)
Devin Vassell, Spurs (68% registered)
Bogdan Bogdanovic, Hawks (76% registered)
Herbert Jones, Pelicans (68% registered)
Additions for all leagues
Alperen Sengun, Rockets (58% registered)
Seeing Sengun as the first name should come as no surprise to regular readers of this space. The 19-year-old rookie plays for the most tanky team in the NBA and has a par-36 average of 17-9-5 with 1.8 blocks and 1.6 interceptions! Scientists explicitly designed this guy in a lab so that Fantasy analysts could recommend him as a second-half breakout. Should they work on experiments with more useful real applications? Yes! Should the Rockets give Sengun every minute? Yes! Would those minutes bring an advantage to winning the league? Absolutely, 100%, yes!
I can't explain what the Rockets are doing with Sengun. I don't know why he started three of the last six games but only played 21, 16 and 14 in the others. I can't explain things that don't make logical sense.
It is possible that Sengun will never be properly released. But if he starts playing around 30 minutes a game on a regular basis, he rightfully carries the advantage of winning the league. The All-Star break tends to be when teams start getting serious about tanking, so hopefully a depth chart promotion for Sengun is coming soon.
Isaiah Stewart, Pistons (65% registered)
On the upside alone, Stewart should be priced higher. Doubt remains, however, as to how much of this advantage he is able to exploit. As the All-Star break passes and the NBA's "silly season" (aka tankathon) begins, Stewart should have plenty of minutes. He's already averaging a double-double with 1.1 blocks per game in February – good numbers, but Stewart's raw skills mean he should be capable of more.
Raul Neto, wizards (18% registered)
One of my biggest fantasy takeaways from the trade deadline is that there are now a ton of fantasy opportunities available in Washington. Between Bradley Beal's season-ending injury and traded players, the Wizards lost 82 minutes per game from their backcourt and only brought in aging Ish Smith (10% rosters) as a replacement.
Neto may not have the edge of the other players listed in this column, but he's the one I'm most confident will have lasting value. Since the trade, he's averaging 13-2-5 with 1.5 steals in 30.0 minutes as a starting point guard. This production or better should continue.
Some of his teammates are also worth checking out. Rookie Corey Kispert (23% fielded) is also enjoying freed up minutes, his workload having nearly doubled since the trade. That said, he's probably nothing more than an inconsistent and ineffective 3 and point specialist. The aforementioned Smith has some value in the deep leagues or for managers who need help, but I doubt he has standard league value.
Jaden McDaniels, Timberwolves (21% registered)
In March of his rookie season, McDaniels entered the starting lineup. He started 23 games before injury disrupted his final two weeks of the season. During that span, he averaged 30.4 minutes per game, and while he didn't excel in any category, he produced a bit of everything.
Now a sophomore, McDaniels is on the rise again. He went a solid 12-4-2 with 0.8 steals, 0.8 blocks and 1.5 3s over the last 14 games. Although he is not a full-time starter, he plays more minutes than rebounder Jarred Vanderbilt. And McDaniels, 21, continues to improve as he goes. He's a complete producer who could continue to improve and see some extra time on the pitch over the next two months.
Matisse Thybulle, 76ers (18% aligned)
There's still a massive James Harden-sized shoe waiting to drop in Philadelphia, and Thybulle has obvious limitations. That said, the most likely scenario is for Harden's minutes to remove Furkan Korkmaz and Georges Niang, leaving Thybulle's role almost intact. Even before the deadline headline, Thybulle's minutes tended to increase, adding to the already available value of Thybulle.
Thybulle isn't for everyone – in fact, it will actively harm some lists. But at this stage of the season, managers need to have a clear idea of ​​what they have and what they need. And if you need steals and blocks, you'll be hard pressed to find a more useful waiver perspective than Thybulle. His lack of points can be brutal, and he's slightly disappointed in rebounds and assists, but he's neutral in 3s and shooting efficiency. If either of the following two situations apply to you, Thybulle is one of the best possible supplements (otherwise, probably skip it):
A head-to-head league where the lineout is among the worst points in the league – remember, you may not have intentionally kicked a point upfront, but it's high time to duck if you have trouble there;

A roto league where a manager has little room to move up or down in points, but can make big moves in the standings with extra defense.
Brandon Clarke, Grizzlies (46% registered)
Trivia time – in the 2019-20 season which rookie finished best in producing 9 cats per game? It was the rookie class with Zion Williamson, Ja Morant, Darius Garland, Tyler Herro, etc. Yes, you guessed it – Brandon Clarke.
Clarke's production stagnated in the sophomore year, and he was relegated to a minor bench role for the first few months of that season. But his game has improved lately and he has been rewarded with extra minutes. In his last 10 outings, he has racked up 22.4 minutes, posting 13-7-2 with just under one block and one steal per game. Importantly, it happened during a mostly healthy time for the Grizzlies — Clarke isn't taking advantage of anyone else's absence. On the contrary, the coaching staff made the seemingly deliberate choice to eliminate Kyle Anderson in favor of more Clarke. We already know Clarke has the ability to be a Top 80 player, and it looks like he has the opportunity to show it once again.
Jaxson Hayes, Pelicans (26% registered)
If Zion Williamson ever plays then Hayes might not be relevant to Fantasy anymore, but I guess we won't see Williamson this season. Hayes entered New Orleans' starting lineup on Thursday, replacing a struggling Devonte' Graham. The switch has the potential to stick. If so, Hayes could easily average over 25 minutes the rest of the way. At this workload, he projects around 12-6-1 with more than one block per game in addition to an extremely efficient FG%. Crucially, those projections might underestimate his potential – his production-per-minute numbers improve in games when he gets more minutes.
Isaiah Jackson (35% registered) or Jalen Smith (22% registered), Pacers
There's probably no room in the rotation for these two players, but there's a good chance one of them will make a splash in the streak. Both players have shown excellent per-minute efficiency – Smith can make a fantastic impact at around 25 minutes a game, while Jackson has shown he can make a mark in just 20. But the Pacers are overloaded with big men (s 'they're never healthy), making it unlikely that Jackson and Smith could co-exist. I'm leaning Jackson over Smith, but I could easily be wrong.
Jackson, the 22nd pick in last summer's draft, has struggled with injuries all season and played just 20 games. His track record is short but impressive. He only played over 18 minutes in four games but averaged 18-7-1 with 3.0 plays in just 22.5 minutes in those outings.
Smith's track record is only slightly longer, but a similar pattern emerges. He has played at least 20 minutes 10 times this season. In those games, he averaged 14-9 and 1.1 blocks. Not quite as dynamic as Jackson's numbers, but easily adaptable if he was able to put them together consistently.
Lower rise options with appeal for the rest of the season: De'Andre Hunter, Hawks (56% registrant); Justise Winslow, Trail Blazers (62% registered); Ivica Zubac, Clippers (55% registered); Dorian Finney-Smith, Mavericks (47% registered); Mason Plumlee, Hornets (47% registered)
High potential and low floor players to watch: Davion Mitchell, Kings (64% registered); Goga Bitadze, Pacers (18% registrants); Ziaire Williams, Grizzlies (7% registered)
Injured players who could return
Michael Porter Jr. (33% registered) and Jamal Murray, Nuggets (54% registered)
A recent report said Porter and Murray "will be physically allowed to return before the end of the regular season", although he didn't provide many more details. The wording makes it seem like the two players are still too far apart to add yet, unless you have an unused IR point. That said, keep a close eye on this situation. Murray is a top 30 producer when healthy. Porter struggled to start the season, but that appears to be down to his lingering back injury, and his upside is monumental – he had a month-long run in the top 10 in Fantasy to close out last season.
Markelle Fultz, Magic (22% registered)
When we last saw Fultz, he was averaging a little better than 12-3-5 with more than one steal and almost two 3s per game. Since then, the Magic have drafted two very promising lottery picks in Franz Wagner and Jalen Suggs and Cole Anthony has become a low-level star. Even once Fultz is healthy and the minute restrictions are lifted, I'm not sure he can get back to 27 minutes per game. He looks set to return soon, potentially before the end of the month. He is very likely to have deep league value. For standard leagues, he'll likely be attractive to managers who need help, but otherwise probably ignorable.
Patrick Williams, Bulls (7% registered)
Recent reports from Chicago have been upbeat, if a little puzzling. They said he is likely to return this season. For fantasy purposes, however, that doesn't matter. He will not be relevant to Fantasy during the regular season.