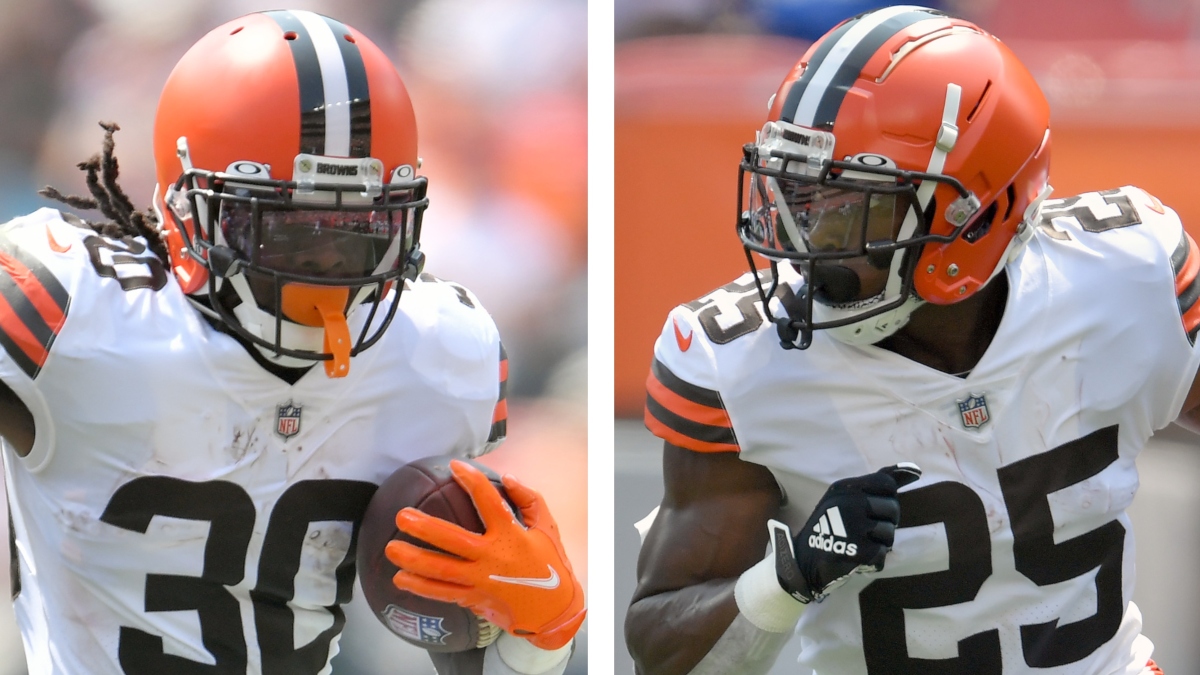 Ernest Johnson is the No.1 fancy exemption thread added to Demetric Felton following Browns RB injuries
The Browns will be deprived of their two-headed monster duo in the backfield of Thursday Night Football.
With Nick Chubb (calf) excluded for their Week 7 NFL game against the Broncos – and Kareem Hunt (calf) is already set to miss "several weeks" after injuring his calf last Sunday – the Browns will look to substitutes D'Ernest Johnson and Demetric Felton the small week.
Johnson and Felton are widely available in fantasy football leagues, but which of the two should you target? We asked our analysts for their thoughts on what to expect from the two this Thursday night.
---
How to target Ernest Johnson and Demetric Felton on Fantasy Waiver Wire
Chris Raybon: Johnson has been effective in limited career actions, averaging 4.9 yards per carry on 40 carries and 9.2 yards per catch on 10 catches. In his only extended action, he ran for 95 yards on 13 carries (7.3 yards per carry) in week four against Dallas last season.
I would treat Johnson as the top priority for this week as he is expected to end up ranking RB1 due to the weeks off.
The Johnson Browns are the home favorites against the Broncos, who rank 20th in the Football Outsiders' run defense DVOA. The Browns also have a smashed starting quarterback at Baker Mayfield (dubious shoulder), which makes for a perfect scenario from a workload, game, and play script perspective.
Felton is a "sexier" player in terms of skills, but there is a lot more uncertainty with him than his teammate Johnson.
Felton can play both RB and WR, but has played mostly WR so far. In a short week of training, one wonders how well they can prepare him for a big workload at RB, so I would treat him like an RB3 / FLEX game at best – he's able to play with it. splash, but it could be a situation like the 49ers a few weeks ago, where everyone is on deck in the racing game rather than using rookies.
Johnson will likely be a weeklong rental for fantasy owners as the Browns have a long week after that, but I'd still spend around 20% of your FAAB on him given his locked role before Thursday.
Former Ram John Kelly, who has a few double-digit games in his career, has also been added to the practice squad and could operate as RB2 against Felton for a short week.
---
Sean Koerner: Johnson is the back most likely to absorb the touches left by Chubb and Hunt.
This is Johnson's third season on the Browns and they likely trust him to carry the load for at least one game. When Chubb fell in Week 4 last season, Johnson rose to 13/95/0 on floor. And in week 5, he scored 8/32/0 on floor.
I'm projecting him for 13-14 wear on Thursday with two receptions, which puts him in the RB16-20 lineup.
The Browns used Felton as a wide receiver in training camp, but he's certainly capable of handling 8-10 races if needed. It has a wide range of results, but I'm projecting it for 6-10 touches on Thursday.
The Browns also added John Kelly, who could add a few touches as well.
Johnson is the best bet for TNF, and if you're desperate, definitely bid on a week's rental – how much depends on your record, how desperate you are at RB, and how much you expect your league to bid.
Felton has the higher advantage of the two, but also the lower floor. I wouldn't be surprised if he ends up being the most FAAB drawing RB in the leagues, making Johnson my favorite add-on.
---
Samantha Prevites: Johnson would likely resume more fieldwork that would otherwise have been given to Chubb as the only pure rusher of him and Felton.
Johnson should be the pair's favorite addition on waivers, although I would temper expectations: He only saw a two-yard run and caught a seven-yard pass in Week 6 with Chubb at the 'difference. He also disappointed fantasy managers last year after many spent large amounts of their FAAB on him.
Felton, who has dual eligibility as a running back and wide receiver, has yet to record a rushed attempt all year and will likely see more transmission work than Hunt usually takes. Felton will undoubtedly have more value in PPR formats.
Both can be seen as weeklong replacements based on volume alone for desperate managers with six teams in reserve. I would rate Johnson as medium to high priority and Felton as low to medium priority, albeit slightly higher in PPR formats.