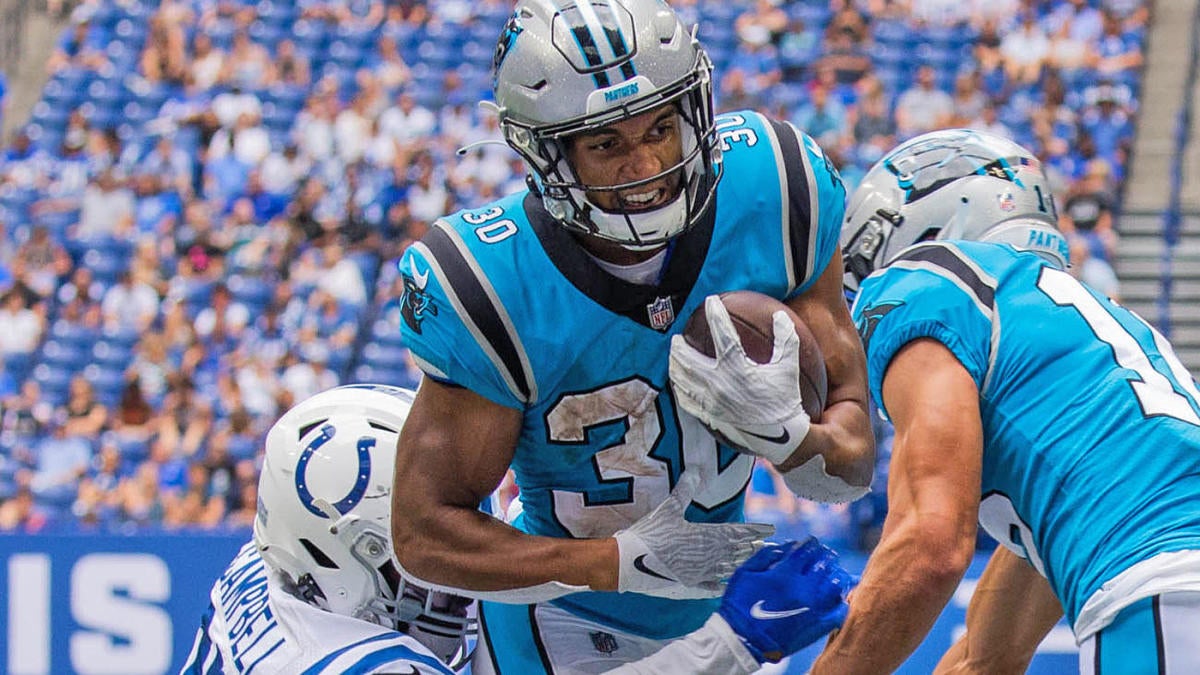 Disclaimer thread at the start of Fantasy Football Week 13: Replacements for Christian McCaffrey and Dalvin Cook?
After Sunday's game against the Dolphins, Panthers running back Christian McCaffrey was seen in a walking boot, apparently following an ankle injury that forced him out of the game at one point in the first half. The good news is that he was able to come back from his injury, but it's obvious that his status for the future is at least somewhat uncertain right now, and with the playoffs looming in Fantasy, that's concerning.
But his status for week 13 is clear: he won't play. Nick Chubb, Kareem Hunt, Aaron Jones, AJ Dillon, Dontrell Hilliard, D'Onta Foreman or McCaffrey's replacement, Chuba Hubbard either. It's not the worst week off of the season, but it's not far off, and it could leave Fantasy players scrambling to fill a few holes in their rosters. And there could be even more holes to fill if Dalvin Cook's shoulder injury causes him to run out of time – he was taken off the pitch late on Sunday and sent off shortly after, which didn't. is not a good sign.
The good news is that there might actually be some decent running back goals to consider on the waivers before Week 13 – even though Alexander Mattison (78% CBS Fantasy Leagues) isn't available on. the thread in your league.
The first could be Jamaal Williams (55%), whose teammate D'Andre Swift left Thursday's game against the Bears with a sprained shoulder. The injury is not considered serious, but he could still end up missing the game, and Williams would be a very interesting starting option even in a very bad attack. He played 63% of the snaps in Thursday's game with Swift starting early, rushing for 65 yards on 15 carries and adding five catches on five targets for 18 yards. If Swift is running out of time, Williams could be one of the top 15 RBs for next week and would be the obvious first hang-wire target, if any.
And he's not the only potentially intriguing running back we might consider for Week 13. In Sunday's first look at the waiver thread, I'll highlight a few players from other positions, but first, here are five more running backs we might be looking to add waivers next week:
Boston Scott (38%) – I think Scott is the first target if you need an option for Week 13, although this situation in Philadelphia is a bit murky. Jordan Howard missed Sunday's game with a knee injury and Miles Sanders was limited in the second half after limping with some sort of leg injury. Scott led the team with 15 carries for 64 yards and one touchdown (and another touchdown was called up for possession), also adding three targets. Sanders might be fine for week 13, but it will clearly be a committee, so if he's not 100% there will be plenty of room for Scott. And, if Howard and Sanders is out, Scott could be a fixture with a big game against the Jets underway.
Tevin Coleman (17%) – Coleman probably has more clarity on his role than Scott, but the situation just isn't as good. He led the Jets with 47% of running backs on Sunday, and with a rare lead to protect, he ended up rushing for 67 yards on 16 carries while adding two catches for 3 yards on three targets. There's nothing out of the ordinary about this production, and he gave up work both near the goal line (to Austin Walter) and on third downs (to Ty Johnson), but he should be good for carries at two digits and will be in the RB3 conversation. for week 13.
Phillip Lindsay (14%) – This one looks a lot less secure than the previous two, but Lindsay carried the ball 12 times for Miami in their 33-10 win over the Panthers on Sunday. Lindsay saw a lot of work in the second half of the blowout – 11 of her 15 snaps came in the second half – but it's not bad for her first game with her new team. The Dolphins have used multiple fullbacks all season, and if Lindsay can show a spark, it might not take much to push Myles Gaskin to work quickly. And, with another potential easy win coming in Week 13 against the Giants, he could be relevant again.
Dontrell Hilliard (45%) / D'Onta Foreman (63%) – If you're looking for an addition for week 13, neither Hilliard nor Foreman will be of much help, but both will be worth adding if you can afford the place of the list. Hilliard ran 12 times for 131 yards and one touchdown against the Patriots (while adding two targets), while Foreman rushed for 109 in 19 carries with one target. The Titans offense has been a mess without Derrick Henry, but with the volume these two are getting, Week 14 against the Jaguars could be pretty good for both.
Chuba Hubbard (62%) – Obviously, if McCaffrey ran out of time to move forward, Hubbard would be a go-to player, even with the bye ahead. At this point, we're just not sure if McCaffrey will have to run out of time, and since Hubbard's value depends on it, it's hard to suggest spending a spot on a Total Aviator. On the flip side, it's a friendly reminder that while it may seem like keeping a guy like Hubbard on your bench will hamstring you, flexibility matters less in the playoffs.
Here's who else we could watch for week 13:
Please check the registration box to confirm that you wish to subscribe.
Thank you for your registration!

Keep an eye on your inbox.

Sorry!

An error occurred while processing your subscription.

2021 NFL salute to service gear revealed
Honor our military while supporting your favorite team. Get camo trucker hats, hoodies, jerseys and more. View the entire 2021 NFL Salute to Service collection here. We salute our military and thank you for your dedication!
We may receive a commission for purchases made through these links.