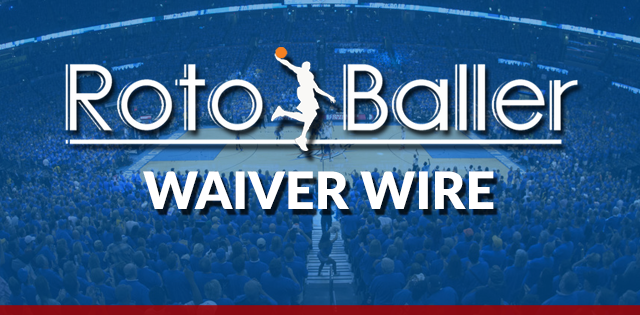 Deeper Week 7 Waiver Wire Sleepers for Fantasy Basketball
The deeper a fantasy basketball league, the harder it is to hit a winner with your last picks. It's also harder to find decent help from the waiver thread if your end-of-turn choices don't do you justice. If you've picked up a few stinks, don't give up hope just yet. I will try to help you pick a winner.
here are my Deeper fantasy league basketball waiver wire pickups for your fantastic basketball teams. These NBA players should be available in most leagues and they could just help you out, whether it's a rental for a few weeks or a long-term solution to a problem your team is having.
If someone on your team is frustrating you with their poor performance, try some of them. They may be worth it.
Featured Promo: Get any NBA premium pass all season long for 50% off. Win big with our exclusive DFS programming tools, match evaluation projections, powerful research station, programming optimizer, daily DFS picks / cheat sheets and more!
Register now!
Fantasy Basketball Waiver Thread Goals for Week 7
Brandon Clarke (PF, MEM) – 12% registered
One way or another, changes are happening in Memphis. If you've been paying attention to the news last week, you already know it. If you haven't, here's the thing: Ja Morant got injured and will miss a bunch of weeks. Now, obviously, that doesn't have a direct impact on Brandon Clarke, but Tyus Jones and De'Anthony Melton's next two men are already so super-roster that it didn't make much sense to talk about them. as WW targets in mega-deep formats (chase both of them, though, and consider yourself lucky if you land one of the two!). So what about other auxiliary parts such as Clarke?
Morant is not what you would define as an injury prone player, but alas. Jaren Jackson Jr., on the other hand, surely is. But JJJ has yet to miss a beat this season. Clarke could gain a huge advantage and be the primary beneficiary of a potential road injury, but even if that never happens, he's doing more than enough to get more playing time as the season gets older. . In the six games he's played in the last two weeks of play, Clarke averages just 19 MPG, but he put up a daily 9-3-2 line with 0.8+ BPG in more of that. Prorated to an average of 36, that would give a 17-5-4 sound with 1.5 blocks. Over the past week, Clarke has played two games of 26 MP each, and his FP / min is a high of 1.12 since November 15 (league average of 0.90). Clarke deserves more chances and he could get some sooner rather than later.
Malik Monk (PG / SG, LAL) – 11% enrolled
The Lakers are underachieving like hell. It's that simple, and things should change soon for them if the Lake Show is to rest easy on game time. Malik Monk, who signed with LA last offseason, has never really projected to be a foundational piece for the Lakers, but more of a secondary / tertiary player stuck on the bench with opportunities here and there to show off his microwave prowess. This is precisely what happened between the start of the season and November 8 (with the exception of a few starts due to a lack of players), as Monk only got past 20+ minutes at twice in nine games off the pine.
From November 10 through Saturday, however, Monk played less than 24 minutes just once in 10 games and averages a chunky 29 MPG on the bench. Its usage has increased and stands at almost 18.5% on average while Monk orders around 10 FGA per game. Best of all: Monk hits shots with an excellent 49.7% clip since November 10, and he's been scorching since November 17 with a 52.1 shooting percentage scoring 1+ triple in all of his last six games except one, 2+ in three, and a season 4-high treble in the Kings' overtime loss to Sacramento last Friday. A fantastic source of points (12.7 since he started playing a little more), threes, rebounds and very solid flights (1.3 SPG in the last three games / last week of November).
Anfernee Simons (PG / SG, POR) – 10% registered
Simons is part of a team with a loaded backcourt (Dame + McCollum) whose members, despite being underperforming early in the season, just aren't going to touch the pine anytime soon. So that's the first thing you need to know about Simons: he just isn't going to start a game unless he's injured. Simons, however, is playing a good 22 MPG over the past two weeks while building up an 11-3-2-1 average line. Not the greatest efficiency in the first three games of this period on November 15, however, as Simons couldn't reach 10 points or 3 rebounds, but he ultimately did it right in his last two outings until see you Saturday.
Against Denver on November 23, he finished with a fantastic 14-5-2 line shooting 50% over 12 FGA while facing Golden State two days later he peaked the season 19 pops in also a high of season 5 treys with 6 rebounds, 2 assists and another record with 3 steals. Simons started the year hitting shots at an unreasonable 54.4% rate from the field, then had a little slump, but he seems to be getting back on track. If he can stay there, you'll get a good three-point shooter with very good rebounding prowess considering his PG / SG eligibility and the advantage for good flying averages.
Rudy Gay (SF / PF, UTA) – 7% enrolled
If the Utah Jazz turned out good for anything last year, that must turn second unit players into 6MOY candidates. The Salt Lake City Boys got the top two votes in 6MOY Jordan Clarkson and runner-up Joe Ingles. This season, they are aiming for a winning trifecta after adding Rudy Gay via free agency last summer. Gay recently debuted for their new franchise (Nov 18) and it might be a bit of a risky addition given the small sample of matches played, but it can also become the league's winning flight of the year.
Gay has played more than 20 minutes in just one of his six games until Saturday. More often than not, however, he was formidable averaging 1.07 FP / min. even counting the two stinks in which he could only average 0.71 and 0.54 FP / min. In other words, Gay is playing superstar level basketball by the minute and only short runs limit his incredible potential. That might (most likely, in fact) not change, of course, but even if it doesn't, Gay still hits 54.8% of his FGA this season and has logged on to 66.5% d 'between them in the last three games he played (20 FGA total). The bounce is fantastic at almost 5 RPGs, the points will mostly be in the 8-15 clip nightly, and you can count on 1+ trey per night with a hike for a lot more given the spot-up shooting prowess. of Gay (63.6 3P% out of 3.7 3PA per game in his start-of-season streak).
Grant Williams (SF / PF, BOS) – 6% enrolled
A tale of two halves of G-Will's so far this season. From game one to Nov. 13, he was only able to accumulate 210 minutes by starting two games for the Beantowners. As of November 12, however, he has played 219 combined minutes in four fewer games played, which has translated to an average of 18 MPG in that first stretch to 27 MPG (!) in the last eight games. This is called feeding the beast.
Williams has started five of the last eight outings in Boston and while the usage rate is (and will remain) low as hell (in the clip from 11 to 13%), Grant Williams will likely continue to post numbers if only on sheer raw strength and great playing time. Williams averages a good 9-5-1 line per game while blocking almost a shot per game. It can reduce and increase the roster as Coach Ime sees fit given its versatility. And the shooting has been incredible given that GW hits 2.1 at 15 hours per game (he's shooting 56.9% from the field since November 13 on 6.4 FGA; he's trying 5.0 FGA on the season. and 3.4 of them come from the three-point range). Excellent source of threes and still scarce blocks with an appeal in the 9-cat leagues as it barely returns the ball.
Download our free app on news and injuries
Like what you see? You can download our free Fantasy Basketball iPhone mobile app which includes 24/7 player news, injury alerts, schedule notifications and DFS articles.
More fantastic basketball analyzes
By popular demand, RotoBaller has consolidated all of our NBA Fantasy Basketball waiver lead pickups into a list of NBA waiver options, so bookmark the page and check back often for updates.